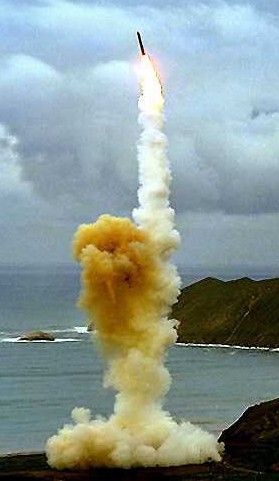 So if we were to disband the Air Force, as I proposed back in August and as Robert Farley seconded in a recent piece in The American Prospect, what would we do about the service's 500 land-based Intercontinental Ballistic Missiles? Maybe push through a new arms treaty and retire them all along with air-launched weapons, moving to a purely sea-based nuke force aboard boomer subs, as Great Britain has done?
Bad idea, says Mike Goldfarb from The Weekly Standard:
But getting rid of our ICBMs? It's an interesting idea. I think it would be terribly naïve to put all our eggs in one basket and rely exclusively on a sea-based deterrent as David suggests.
John from Op-For concurs — ICBMs are indispensible. Why?
Once airborne, ICBMs are nearly impossible to defeat. They are remarkably survivable, and they are the fastest response weapon on the planet. Our enemies still field them, and in some cases are upgrading their strategic rocket forces with better boosters, better guidance systems, better reentry vehicles, and so on. So, I've heard many arguments on whether or not we could eliminate ICBMs, but not a whole lot of discussion on whether or not we should. 
But say we did. What might you do with all those leftover rockets? Goldfarb has an idea:
Attach a tungsten rod to the tip and voila, you've got yourself a conventional weapon capable of vaporizing deeply buried targets. You just need to convince the Russians and Chinese you aren't lobbing a nuke in their direction.